Welcome to Launch Promotions!
EXCITING NEWS!!! I am excited to announce our new partnership with Boundless Network! Partnering with Boundless means that Launch Promotions will still be the same great vendor you are used to, but with additional services and a higher level of technology solutions to maximize efficiency. Think of it as helping us "Launch" our company's version 2.0: we will continue to be quick and flexible, while maintaining the competitive pricing you have come to expect from us. We are a full service advertising specialties company offering a wide range of promotional items to promote your company. Please visit our new website at: http://launchpromos.boundlesspromotion.com/
We help you find a cost effective way to market and promote your business with custom promotional items that speak to your customers and clients.
With the number of companies we work with the possibilities are only limited by your imagination.
Featured Item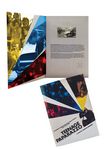 Video in Print Media Player for Custom P...
The perfect fusion of video, print, and sound. Incorporate high quality video content into any print collateral. Multiple screen sizes available. Up to 15 minutes of video content. Rechargeable batter...

Signature Showrooms